Deep Cleaning
During your dental visit the doctor or hygienist will measure the area around your teeth to see if you have any pocketing (area between the tooth and gum where bacteria will form). According to the National Institute of Dental and Craniofacial Research your pockets should not exceed 3 millimeters deep. If they are greater than 5 millimeters your dentist might prescribe a deep scaling and root planning appointment.
Deep cleaning procedure involves removing plaque and tartar from the surface of the teeth and from the pocket area between the teeth and gums. This procedure can be performed with electric or ultrasonic instruments or with manual scaling tools.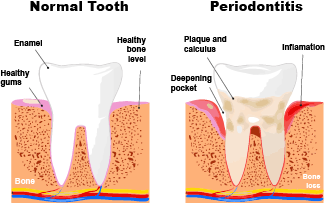 The other part of deep cleaning is root planning. Scaling instruments will be used to remove plaque and tartar from the surface of the roots of your teeth. Such procedure will require a minimum of two visits and a follow-up visit to confirm that your gums and teeth are getting healthier and there is no pocket depth.