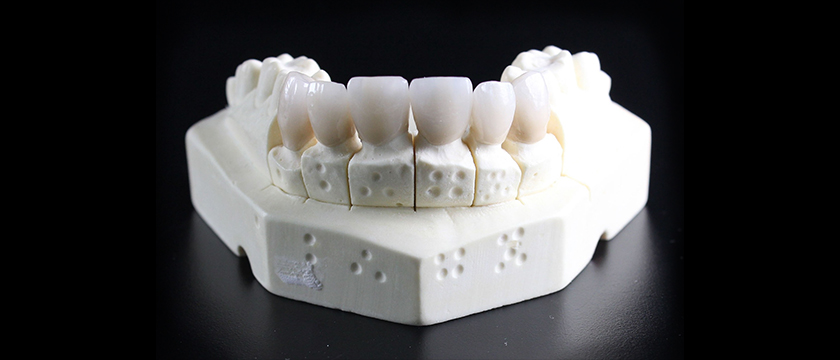 Removable replacement teeth are called dentures. They are another dental prosthetic that have several purposes – to restore normal chewing action, enable regular speech and enhance the appearance of the wearer. Nothing boosts self-confidence like getting your smile back.
More than just restoring a smile, dentures contribute to restoring facial features too. Loss of several or all teeth results in sagging of the cheeks and face in general. Dentures reverse this effect and literally take years off the appearance of the wearer.
Dentures themselves are nothing new. They have been around in one form or another for hundreds of years. Probably the most famous historical figure known to have worn dentures was President George Washington. So modern day denture wearers are in proud company indeed.
However, there is no comparison with the quality and comfort of dentures even 50 years ago when compared with today's equivalents. Breakthroughs in materials, tools and techniques mean that today's denture wearers enjoy a high degree of comfort and confidence compared with their forebears.
There are three main types of dentures:
Removable partial – Removable partial dentures, or RPDs, are suitable for patients who wish to replace several missing teeth but for whom a bridge is not appropriate. This might be because there are not enough suitable teeth to act as supports for a fixed partial denture (bridge) or perhaps for personal reasons such as cost.
They are called removable partial dentures because the patient can take them out and replace them as required, unaided. On the other hand, it requires a dentist to remove fixed dentures.
Immediate dentures – are made before any remaining teeth are extracted and can be fitted during the same visit as the final extractions. As the gums and tissues heal, their shape may alter and so some follow up visits may be required to adjust the denture accordingly.
Complete denture – this conventional removable denture often replaces an entire set of upper or lower teeth. It cannot be fitted until gums and tissues have healed where extractions may have been required, which may take a few months.
Overdenture – is similar to a bridge in that the false teeth can be anchored in place in scenarios where some teeth do not need to be extracted. The surviving teeth support the structure of the denture. This may be a more appropriate procedure than implants but your dentist will advise you on the best approach.
Just like new shoes, it may take some time for your mouth, cheeks and tongue to become accustomed to, and comfortable with, your new dentures. This is perfectly normal. You may also experience minor discomfort, especially if your gums are tender. It is not unusual to temporarily experience increased saliva too. All these effects will subside over time but be sure to consult with your dentist if you feel that the discomfort or soreness is excessive or prolonged.
Dental Health for denture wearers:
Oral hygiene is just as important for denture wearers as it is for everybody else. In fact, you need to take extra care to stimulate your gums when brushing before inserting your dentures. It is important to brush not only your gums, but also your tongue and cheeks as well as the roof of your mouth. Use a soft toothbrush to remove all traces of food from these areas as well as to prevent plaque.
Dentures need cleaning at least twice daily, just like regular teeth do.
Rinse your dentures under cold running water first, to remove any loose food particles.
Brush them gently with a soft toothbrush and a recommended cleaner, which also helps prevent staining.
Then clean your mouth thoroughly, brushing all around your tongue, cheeks, roof of your mouth and your gums to remove any food particles and plaque.
Thorough cleansing of your mouth helps remove the bacteria that can cause infection and bad breath.
Store your dentures in water when you are not wearing them to keep them supple and prevent warping.
Ask your dentist for advice on the most suitable type of fixative or adhesive to help keep your dentures in place. There are many types and brands available and some may be more suitable than others.
Schedule regular dental check-ups just as you would have done before you got your dentures.
With a little care and common sense, and regular visits to your dentist, your dentures should be comfortable and long lasting for many years.
#miami #coralgables #finedentistry